This is a build I've had going on in the background for a while now. Like a few other projects I've worked on, ultimately the research--and repairing my screw-ups--took longer than the actual work. In this modern era, there's some interesting passenger modeling that can be done without insane levels of effort.
When Walthers came out with the new Amfleet cars, I didn't want to pass up on them, but I hadn't really thought about what I'd buy. Amtrak and amfleet don't fit my normal modeling efforts, but do fit the same-era test. And to me, Amtrak was always an F40PH pulling amfleets. I did some research, and found that in the late 70s, quite a few trains ran with Amfleet I cars on longer-distance runs. It was only a 150-mile run, but I took a liking to the Minneapolis - Duluth/Superior North Star, which would run 3-5 Amfleet I, a baggage, and a sleeper behind a single F40...kinda like this:
AMTRAK 352 by Dan Mackey, on Flickr
A little more research showed that some of the earliest heritage cars rebuilt for this service were ex-Santa Fe baggage cars and sleepers. The baggage is a slam-dunk because Walthers released it in pretty correct Phase I, II, and III versions. I grabbed my Phase II on clearance right after I started boning up on amfleets. The sleeper was a bit tougher. Right after it started rebuilding ex-UP Pacific-series sleepers, Amtrak switched to the ex-Santa Fe Pines series because the A/C systems were less reliable on the Santa Fe cars.
They came out looking right at home in Phase II stripes:
Amtrak 2983 Pine Arroyo 5-1979 mb by mbernero, on Flickr
Now, how to model?
After mucking around for a while, I realized the P2K deluxe San Francisco Chief Pines cars could be updated reasonably easily. What I do here could also be used to make a dorm lounge, and these cars have definitely withstood the test of time. Truth be told, the car completed here is my test subject. I will build one more to keep for my own fleet. Note that if you're interested in trying something like this yourself, Walthers has suitable donor cars on clearance.
First, here's the changes required to get a 95% solution:
1) Add HEP connections and marker lights to ends
2) Replace trucks with GSC-41 trucks
3) Remove steam heating equipment and update undercarriage with HEP details
4) Remove Santa Fe lettering
5) Add Amtrak striping and decals
Now, it's impossible to find a separate detail part for passenger car red marker lights. Plus, matching the plated finish isn't the easiest thing. So, time to get creative. I picked up a Walthers plated Amtrak Phase III lounge car on clearance for $30. I salvaged the lighting bar for one of my NJDoT cars, and swapped trucks and ends with the Santa Fe Pines car.
It took a while to figure out that the Pines cars had some basic HEP mods, plus a bunch of minor variations car-by-car. I'm not sure how much got changed by the time they became dorms. Note that at a minimum, the water tanks need to be swapped out and the big steam-activated A/C unit needs to go. It took a while to figure out the water tanks are always screwed on, which means completely disassembling the car to get at the screws underneath the weights--which are part of the electrical system, too.
Here's a photo showing the underframe before painting: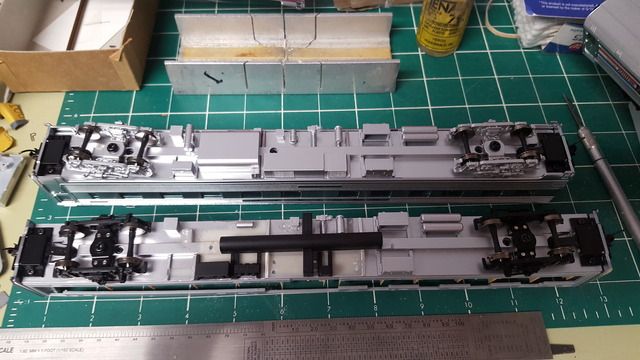 After stumbling around, I found that removing the lettering was most easily done by sanding it off with 800-grit or finer sandpaper, and then masking/repainting the letterboards per antoniofp45's Alclad recipe on the Amtrak and Commuter forum. The shade is a tiny bit off, but not enough to be noticeable.
Once the underframe was updated, I was over the hump...mostly. Underside was airbrushed black. Decals came from the Microscale 87-423 anniversary set, which turned out to be defective and lacked the white background. I ended up decaling over the side twice to hide the defect, but it's part of the reason I won't keep the car now that it's done.
I also had a non-plated 10-6 sleeper that included a decal sheet which gave me enough lettering to complete the car, since I needed a Pine name. Unfortunately, the Walthers sheet was for ex-UPRR Pacific-series sleepers, which limited my options if I didn't want to piece every letter...it was bad enough piecing together "Pine" from individual letters, so I settled on Pine Crest. I'd love to do Pine Arroyo, but don't have a set with "Arroyo" on it.
Here's some photos of the finished car next to my unstarted car. They're not great because I had to make do with lighting, but it should give a good idea of how the car turned out.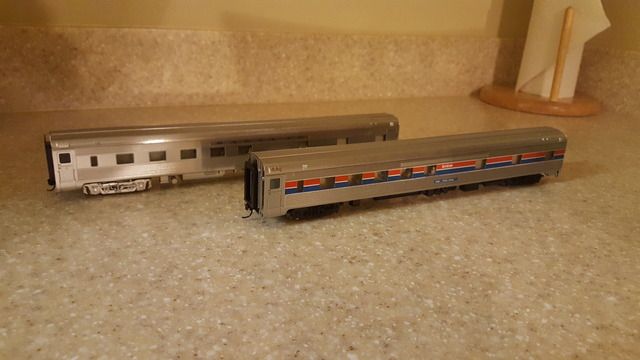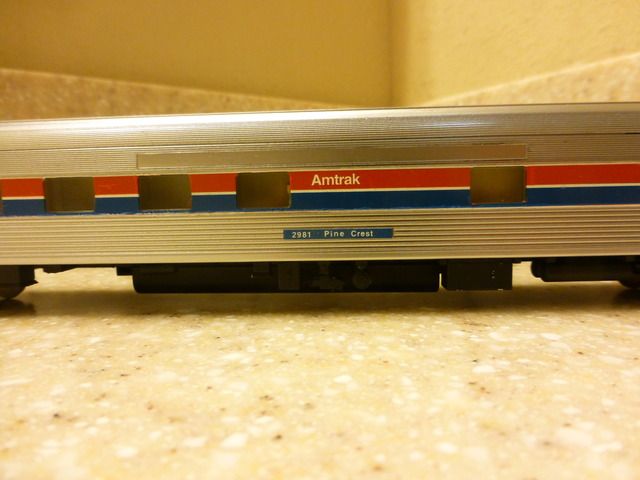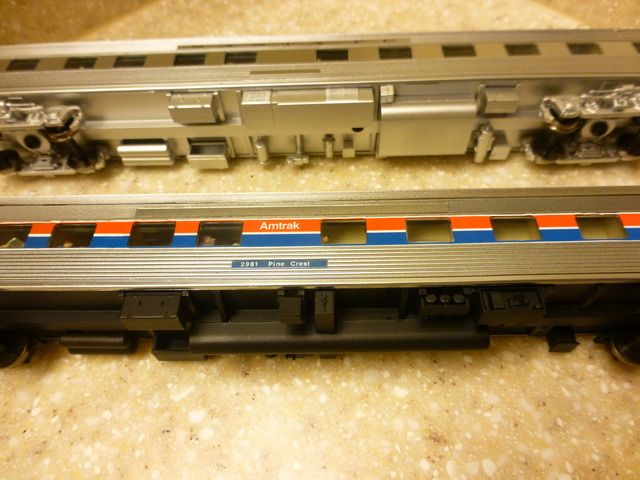 Next, I'll build one for myself, and that one will also get weathered.